So I know I said i would write about the concert today but i didn't have the time. But I have enjoyed reading the Friday's Letter's Linkup for the past several weeks or so and so I decided to do linkup today!
Dear parents, I am so sorry y'all are going through hell with the mortgage right now and wish there was something I could do. I know that there isn't and that you don't want me to worry but it's hard not to now that I am back living at home!
Dear summer, I love you but you don't feel like normal, because I know that I have graduated and am not going back to school in the fall and so as the days pass I feel more and more pressure to find a job.
Dear sketchbook, I got such a great deal on you and can't wait to fill you up with wonderful quotes and lots of venting!
Dear

Andy Grammer

, you were absolutely amazing wednesday night. Besides your awesome musical talent you just seem to have an awesome personality!
- (colbie and gavin were pretty great as well, I promise I will recap the concert away, I just want to do it justice! )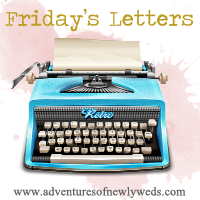 - Elissa