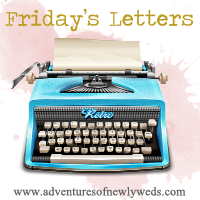 Our Lovely Hostess of Friday's Letter's, Ashley has asked everyone to visit 5 blogs that participate in the link-up!
Dear Blog, I am very sorry I don't have awesome pictures for you! I don't have the best camera and it has been acting up recently. I think I got it working for now and hopefully I can get a new one sometime soon! Also, sorry I have been lacking in posts lately I have been on the go but relaxing enjoying the 4th! Dear Fruit, I love all of your juicy goodness! Watermelon, Peaches, Strawberries, Kiwi, Plums, and some Blackberries are what I have been enjoying lately! Dear Cold, please go away. you are never enjoyed but especially not in the summer. summer colds are the worst. Dear Daddy, I had fun with you on the 4th! I enjoyed helping you at the book sale and loved walking the shops of Black Mountain afterwards!
Dear Duke, I love you very much sweet dog. You were restless this morning and this was the best picture I could get out of you!
Dear Katie Holmes, I am so happy that you are getting out! I was worried about you for a while there. Divorce is sad, but in this case I can't help but be so happy that you are getting out!